Straighten that Smile with Invisalign in Melbourne
Invisalign clear braces offer you the same great results of traditional metal braces, but without all the drawbacks that usually come with wearing braces. Here is a quick overview of how Invisalign works, so you can decide if they sound like a good fit for your lifestyle.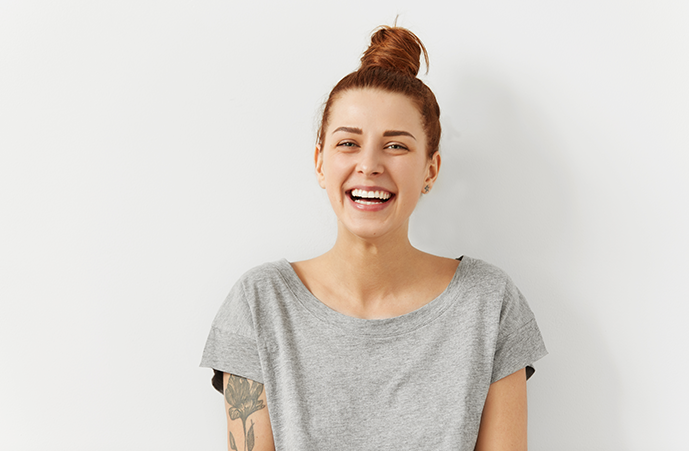 Why Invisalign? The Choice is Clear!
Straightening teeth is a very popular dental procedure and it can greatly improve the appearance of your smile and the alignment of your bite. Since few decades, Clear aligners were reserved for correction of only minor dental issues and adults. The current technological advances in Invisalign can correct fairly moderate to complex issues. Straightening takes time, but it's more affordable than you think to get a straight smile that you feel confident about.  Invisalign clear aligners shift teeth in a similar way as braces, but they are made of a clear plastic and hence offers a discreet option for those who hesitate to have the traditional metal braces. At Holistic Dental Melbourne CBD, we offer teeth straightening with traditional braces as well as Invisalign for patients. After a thorough consultation, Our Experience dentists will advise you on your suitability. Baring Patients who have dental implants/ bridge and extremely complex bite corrections ,most of you would be able to receive this treatment.
How Does Invisalign Work?
If you decide to pursue Invisalign, your dentist will make impressions of your teeth to create a customised treatment plan for you. We'll make a digital 3-D image of your teeth and use it to map out the different stages of teeth positioning. Not all teeth are moved at once. Instead, a few areas are straightened at a time. You'll receive a set of clear plastic aligners that are made out of BPA-free plastic. Unlike metal braces, these will not cause irritation inside the soft tissues of your mouth. Once you have your aligners, you'll wear them every day.
Invisalign is so much more convenient than metal braces. These do not interrupt with your life style. The aligners are easy to remove, so you can take them off when you are eating or brushing your teeth. You can continue eating all your favorite foods.
If you play sports and wear a mouth guard, you can take the aligners off temporarily. However, you'll want to keep the aligners on for at least 22 hours a day, so don't take them off for too long.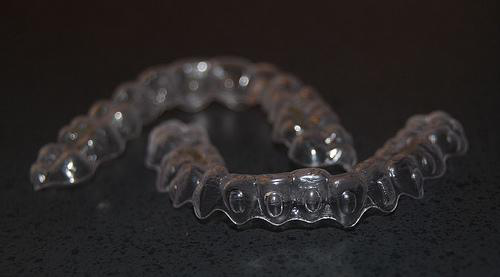 You'll receive a set of clear plastic aligners that are made out of BPA-free plastic.
Making the Right Choice for You
Yes, effective teeth straightening is within reach! In fact, it's one of the most popular services that dentists provide. Patients choose clear aligners over braces for many reasons. Some people don't like the appearance of metal, while others are afraid that metal will irritate their lips and gums. Many patients feel more confident and attractive when they straighten their smiles using clear aligners. We offer the Invisalign brand because they're the world's most advanced clear aligner. Here's why we trust and promote Invisalign clear aligners:
Over 20 years of research
Over 5 million customers
The world's largest 3D printing operation
Data from 5.5 million smiles!
Affordable Clear Aligners
Invisalign is affordable for a variety of budgets. You can create a monthly payment plan based on your needs. Invisalign often works faster than braces because of the customised 3D printed trays, saving you time and money.
Is Straightening Safe?
When performed by a professional dentist, teeth straightening is a safe procedure. Invisalign straightening is fully supervised, using custom-made trays and an in-depth, personalised plan to reach your straightening goals. For a safe experience, it's best to do teeth straightening sessions under the care of a dentist. We would never recommend attempting to straighten teeth on your own with unregulated online products. You'll get better results and have a safe experience when you straighten teeth under a dentist's care!
Invisalign vs Veneers
If you are looking for smile makeovers, Invisalign is preferable to veneers to straighten teeth, when shape of the teeth is near ideal, and you are happy with the color of your teeth. Unlike veneers, Invisalign doesn't involve the removal of extensive tooth enamel. Invisalign can be a good adjunct prior to veneers to align teeth to minimize enamel removal and preserve the long-term strength of the tooth.
Call Now to Book Your Invisalign Consultation!
Straightening teeth with the Invisalign system is a very popular dental procedure that can greatly improve the appearance of your smile and the alignment of your bite. Give us a call to book your Invisalign consultation today!
Our Smile Makeover Gallery











We Accept All Major Health Funds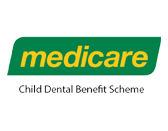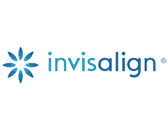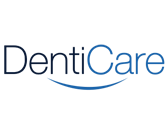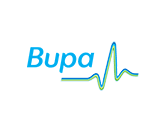 Any surgical or invasive procedure carries risks. Before proceeding, you should seek a second opinion from an appropriately qualified health practitioner.