Do you ever feel like you're breathing fire some mornings?
You wake up and you can just taste how bad your breath must smell.
After sleeping all night, the bacteria in your mouth have been hard at work breaking down food particles that remain there – this process makes for a lovely pungent breath when you rise in the morning.
However, for some people, the bad smell goes beyond just your typical morning breath. And when this unattractive  odour continues to emanate throughout the day, it becomes known as halitosis.
But there are things you can easily incorporate into your daily oral hygiene that can help eliminate this ongoing bad  breath:
Scrape your tongue.
When it comes to oral hygiene, it isn't just about caring for your teeth – you need to properly care for all areas of your mouth, including your tongue.
The coating that is often seen forming on your tongue is a common host for smelly bacteria.
Use the backside of your toothbrush with the little scrubber – the opposite side to the bristles – to gently scrub your tongue after brushing.
Rinse your mouth out.
Brushing is the most important, but adding a mouthwash to your oral regime can also help kick that smell.
Bad breath always goes back to the smelly bacteria housed in your mouth, so it is all about ridding your mouth of these bacteria.
An antiseptic mouthwash will help kill those bad breath causing germs, stopping the problem at its source.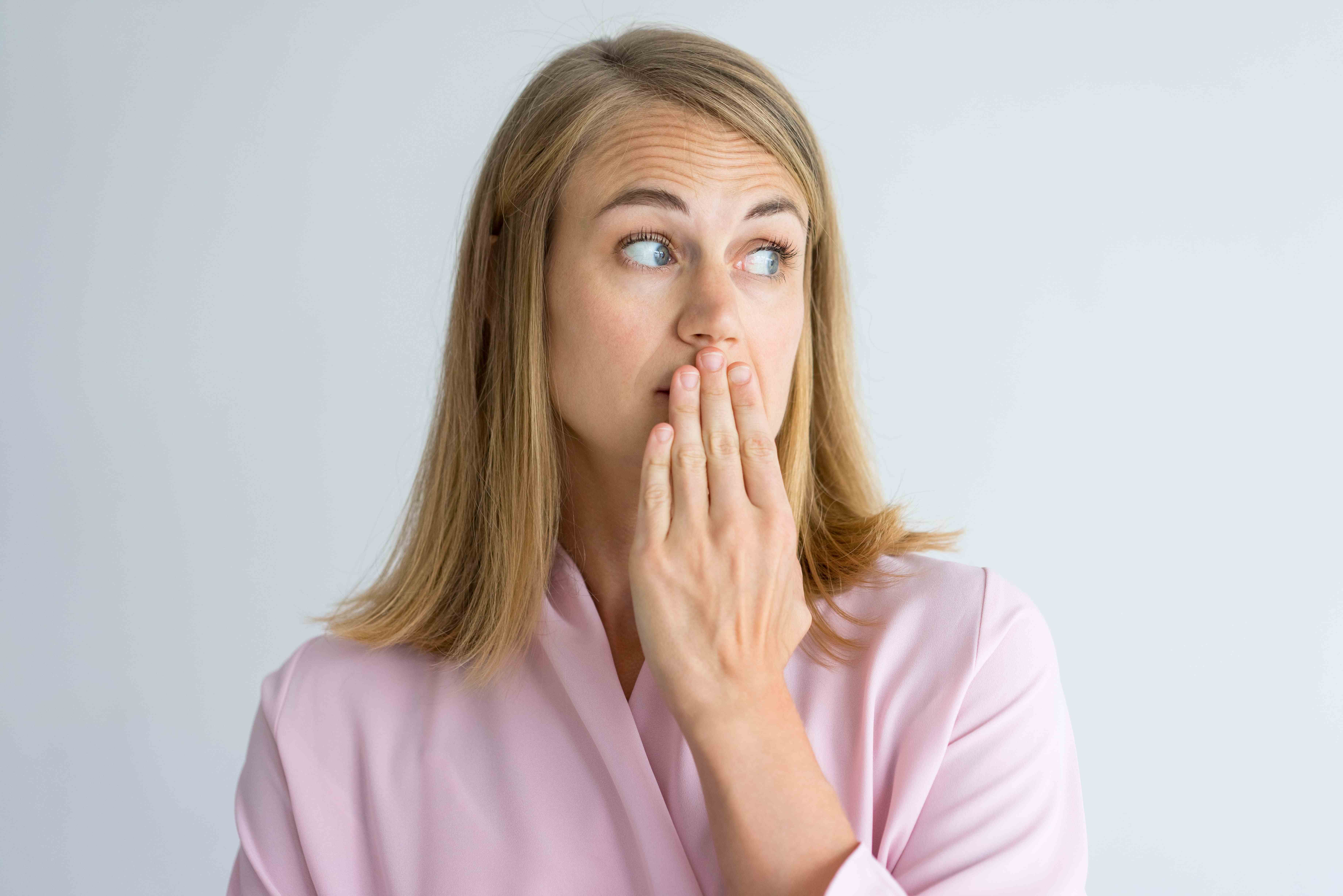 Drink plenty of fluids.
A dry mouth can also cause bad breath. If you feel like you don't make enough saliva to keep your mouth moist during  the day, be sure to drink plenty of fluids.
Even if you do make enough saliva – it is always a good practice to drink plenty of water.
Have a healthy snack.
Munching on a carrot, a stick of celery or an apple between meals can help keep your mouth moist and help wash away bacteria from your teeth, tongue and gums.
Additionally, acids build up in an empty stomach causing bad breath so munching on a healthy snack can keep the  tummy rumbles away and act as bad breath treatment.
Floss daily.
Food is constantly lodged between your teeth, even if you don't feel it. The longer this sits in there, the more it smells.
Floss at least once a day to help keep the spaces between your teeth free of food and debris.
Everyone has suffered from bad breath at least once in their life and we know it can be embarrassing. But you don't have to just keep your distance from people. Try these tips to help alleviate that embarrassing bad breath treatment.
Contact Holistic Dental Melbourne CBD for Bad Breath Treatment Today!