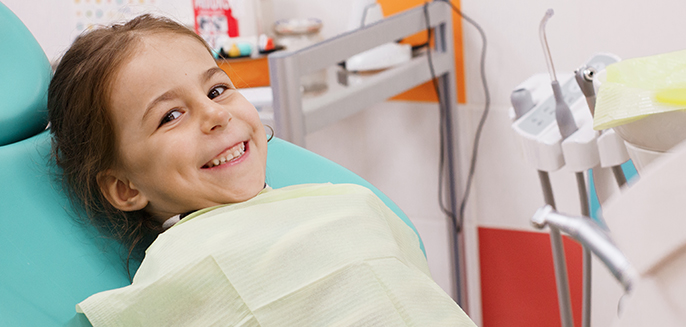 Positive dental care habits start when kids are young. As providers of kids dentistry Melbourne cbd, the team at Holistic Dental Melbourne CBD share our top tips to help parents teach kids how to look after their teeth and gums.
Brushing and Flossing Routine
Encouraging brushing and flossing starts when your kids see you, as a parent, have a routine. It's also helpful to brush your teeth together. During this time you can show your kids the best way to brush so they are giving their teeth and gums a thorough clean. If you're not sure yourself, book in with our kids dentist – located in Melbourne cbd and we can show you both the best way to brush and floss.
Make brushing a fun exercise. Take them shopping for a toothbrush. You can select two children's toothbrushes if you are purchasing a manual brush, so the size and bristle is right (small head and soft bristles). Then have them pick from the two you provide as a choice.
There are some great novelty toothbrush holders these days so find some online and see which one your child would like.
Remember to swap out your child's toothbrush every 3 or so months or when the bristles look worn.
Consider an Electric Toothbrush
Electric toothbrushes have been shown to be more effective for brushing than manual toothbrushes in an 11 year study published in 2019.
Having an electric toothbrush is more of a novelty for children and especially good for those kids who are struggling with the routine of brushing and flossing. Some powered toothbrushes have a timer too which will mean a greater chance of a proper clean when done with the right technique which our kids' dentist here in Melbourne cbd can show you.
Provide Sugar Free Food and Drinks
It's easy to grab something off the supermarket shelf given we all lead busy lives. Sadly, many products contain sugar and other additives that are not great for overall health and oral health.
By offering healthy food and drink options, your children will benefit from a dental health perspective. Kids also learn what to eat and drink by what they are presented with. The best time to form these habits is when they are young and while you still have a say in what they consume.
Shift from white sugar to coconut sugar or pure maple syrup as a sweetener in baking. Bake more at home (and include your kids if appropriate).
Look for wholefood recipes and plan ahead. If you know what you need and you have it available, there's a greater chance you'll provide it for your kids, including in their lunch boxes for kindergarten or school.
Ultimately fresh fruit and vegetables are great for tooth development, strength and oral health.
It's an important time for kids when their teeth are changing and growing. Having a regular dental check-up means our kids dentist will be able to keep record and develop a history of your child's teeth.
We can also see any areas that require better brushing and flossing and provide guidance for your child.
Water plays an important part in hydration. It assists with saliva production which in turn, helps neutralise acid and the breakdown of food and drink. Saliva helps to stop 'dry mouth' which can cause dental problems.
Always provide water when your child is eating. If it is there, it's more likely they will drink it.
As a final point, we encourage you to bring in your young children when you have your own dental appointments so they can sit in the chair and become familiar with our dental clinic. This will make it less of an issue for when they have their own appointment with our kid's dentist Melbourne.