Unfortunately, many people only find out they have bad breath Treatment by someone telling them. That can be embarrassing for you both, especially if you don't know the person very well who is telling you that you have bad breath.
Bad breath is also called Halitosis by the medical profession, so if you hear your dentist at Holistic Dental Melbourne CBD referring to halitosis in reference to bad breath treatment, you know what they are talking about.
Halitosis is different to morning breath or temporary breath after a meal and surprisingly, it is estimated that between 20 to 45% of people have bad breath at one stage or another.
There are some symptoms that may assist you to find out if you have bad breath. First, let's explore how bad breath comes about.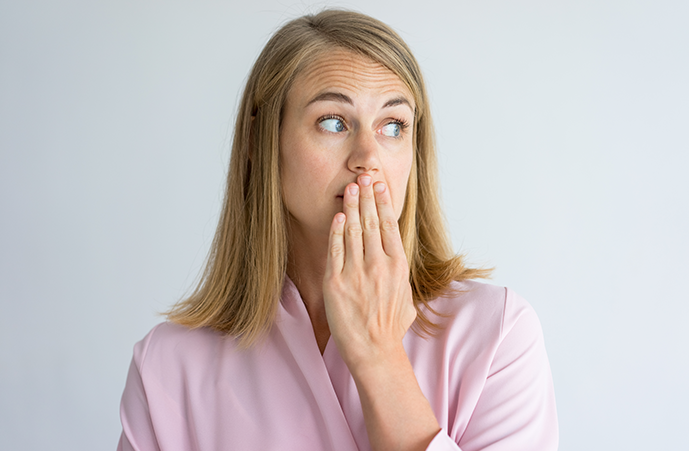 Causes of Bad Breath
Usually, the causes of bad breath are related to bacteria present on the teeth and debris on the tongue, but not always.
Infections
Throat, nose and mouth infections can lead to bad breath. When your body produces mucus, especially with a sinus infection, the bacteria feeds on it. Surgical wounds from, for example, having a tooth removed may also be the cause or tonsillitis.
One of the more obvious culprits is tooth decay and one of the more rare causes linked to bad breath is gastrointestinal diseases.
Dry Mouth
Saliva provides an extremely important function and proper saliva function provides for better oral hygiene.  Dry mouth (xerostomia) is caused when saliva production is decreased leaving you with that feeling of having a dry mouth. If dry mouth is an on-going problem, speak with our team at Holistic Dental Melbourne.
Poor Oral Hygiene
Food particles do get trapped between your teeth if you do not brush daily and incorporate flossing. Those particles build up to become plaque which can turn into cavities or more serious dental issues if left untreated.
Medications
There is a large list of medications that can directly and indirectly cause bad breath. Some common medicines come under antihistamines, anti-depressants, anti-psychotics, seizure medications, Parkinson's medications, Alzheimer's medications, certain cardiovascular medications, to name just a few categories however the list is more extensive. You can ask your doctor if you have concerns with your medications and bad breath.
Food and Tobacco
It is fairly well known that tobacco and smoking causes lasting bad breath. Certain foods, upon consumption enter the bloodstream and are breathed out of your lungs. Further, the breakdown of food particles that remain in your mouth / teeth may increase the bacteria and produce an unpleasant odour.
Other Factors
Bad breath can be caused by certain diseases of the body so if your oral health is good but you still have bad breath, please see your doctor for medical advice. If you are then referred to a dentist, you know disease may have been ruled out.
If a child has distinctive bad breath then check for things such as food stuck in the nasal passage.
Bad Breath Treatment
There is no magic wand to instantly change the smell of your breath but you can take steps that will help and improve your breath over time. It will also depend on the cause of bad breath in your personal circumstances.
For example, if tooth decay is causing bad breath then having the appropriate dental treatment can provide prompt relief for bad breath.
To start to improve your breath, daily brushing and flossing is a must. Ensure you are well hydrated as increasing your water intake will assist with saliva production for dry mouth.
Some great natural remedies for bad breath treatment include green tea, green tea extracts, herbal rinses, chewing on parsley and basil, and the use of clove oil.
It's important to see us for regular cleans and a dental check up to ensure your oral health is the best it can be.
We welcome your questions on bad breath treatment here at Holistic Dental Melbourne cbd and can offer the right advice depending on your situation. Let's improve your relationships with others, by improving your bad breath. Reach out to our office today to book an appointment.