In order to gain an understanding of how long it takes to recover from a root canal procedure, it's helpful to understand more about your teeth and this type of dental treatment.
What is a Root Canal?
The root canal is a part of what makes up the structure of your tooth.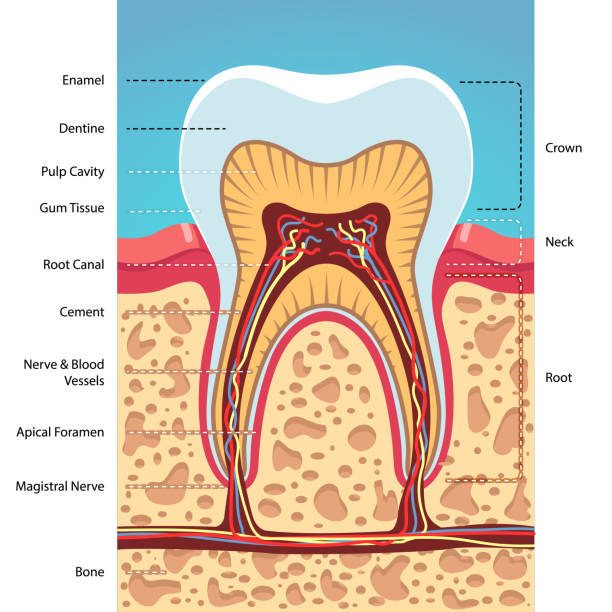 The outer layer of the tooth is called the enamel which protects the tooth. Beneath the enamel is the dentin and cementum – as a part component in the lower section of the tooth protecting the tooth root. The root canal itself is the tooth pulp containing cells, connective tissues and nerves and sits under these other tooth layers.
How does a Root Canal get Damaged?
Dentin is the tissue that is calcified and sits above the pulp chamber and if dentin becomes exposed, it can cause pain or sensitivity because it stimulates the pulp/nerve. Dentin may become exposed when the tooth enamel is damaged.
Tooth damage, a deep cavity or an untreated tooth infection may cause damage to the root canal. The extent of the damage will only be determined when you see our dentist.
Reasons for Needing a Root Canal Treatment
The following information will be helpful if you are considering a root canal in Melbourne.
These symptoms may be a sign that you need to see our root canal dentist. The only way to determine the right dental care is to make time with one of our friendly dentists at Holistic Dental Melbourne CBD to assess your oral health and decide if you need a root canal dentist.
=> Dark gums,
=> Severe decay,
=> Tooth sensitivity,
=> Pain when eating/chewing,
=> Signs of infection,
=> The gum inflammation that doesn't subside and is accompanied by pain
Once your root canal becomes infected or inflamed, there's a strong possibility you will require root canal treatment.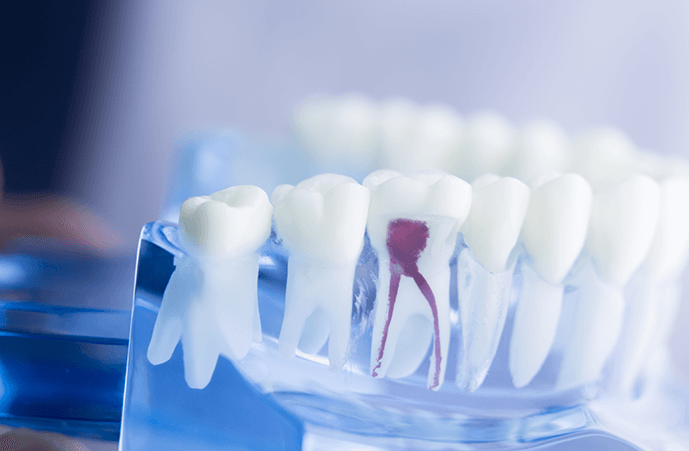 Recovering from Root Canal Treatment
Generally, it takes between one to three weeks to recover from root canal treatment but that also depends on the extent of the treatment you required and your dental health. Most people recover within a week.
Root canal in Melbourne is not like it used to be. With modern technology and dental advancements, a root canal is relatively pain-free before and after the procedure. There are a number of consultations needed to complete your root canal procedure. Your root canal dentist will advise you after your initial consultation as to the process based on your own oral health.
In order to aid in a speedy recovery, you will need to avoid biting down in the area where you have had the root canal procedure completed. This is especially so if the tooth has not yet been fully restored.
Soft foods such as soup, porridge, hommus (or other soft dips), poached or scrambled eggs, yoghurt, banana, healthy smoothies, avocado, mango, ripe pears, ricotta or cottage cheese, mashed pumpkin/potato are recommended and also plenty of water. So make sure you have stocked up on healthy, appropriate foods before treatment. Avoid, hard, sticky, sugary, acidic and crunchy foods and beverages.
Generally, over the counter pain relief will be all that's required post root canal procedure.
Taking it easy and resting is advised for the first few days and if you have any questions after your root canal procedures, better to err on the side of caution and call us. As always, our root canal dentist will provide you with guidance to ensure you are comfortable with the treatment before, during and after the procedure. Call Holistic Dental Melbourne CBD to find out more about root canal treatment in Melbourne.