Teeth cleaning by a professional dentist such as Holistic Dental Melbourne CBD can improve your dental hygiene and the appearance of your teeth but how do you know if you need your teeth cleaning regularly or at all?
Why we Recommend Teeth Cleaning
Plaque can build up on and in-between your teeth from food particles that lodge there. If your oral hygiene habits need improving or you already have a build-up of plaque that you cannot remove, a dental teeth clean is imperative.
If left untreated, gum disease and tooth decay can develop and can lead to more serious health issues and hit your back pocket.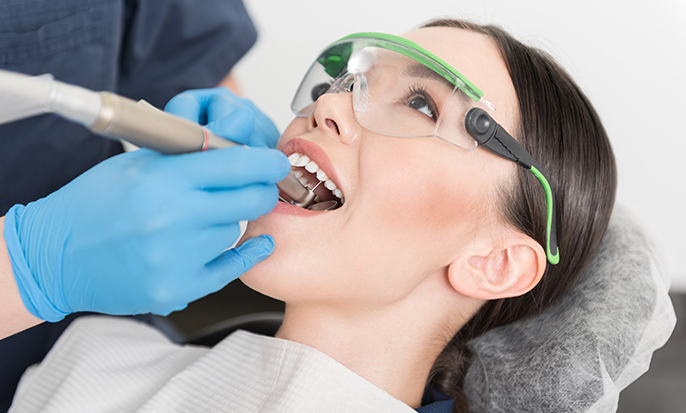 What a Dental Teeth Clean Can Do for You
Inhibit Loss of Teeth
Tooth loss can result from a build-up of plaque that can lead to gum disease. As the plaque moves further down the tooth or teeth, from the gum area it can cause the tooth to loosen and eventually fall out. Regular dental teeth cleans can help to prevent the loss of teeth.
Cavity Prevention
As plaque builds up on your teeth, if left untreated, it can cause tooth decay. The tooth enamel becomes eroded over time and the tooth pulp is exposed causing pain. Regular brushing and flossing is a great place to start to reduce cavities, followed up with regular dental check-ups to ensure you are brushing in all the right places and offer advice upon a dental teeth clean.
A Whiter, Brighter Smile
Beverages and tobacco can stain your teeth. Poor nutrition can also dull your smile. Getting a teeth cleaning by our dentists at Holistic Dental Melbourne CBD, will mean your teeth look whiter and feel clean. Being able to smile openly and freely is great for your well being.
Lose that Bad Breath
Bad breath can be the result of poor oral hygiene. If your teeth aren't looking great and your breath is a match, book in for a dental teeth clean and advice moving forward to ensure you keep your teeth looking great and your breath smelling sweet.
Investing for the Long Run
Investing time in your dental health can save you in the long run. You will save money because you will not require complex dental procedures or cosmetic surgery.
Maintaining your dental health with regular teeth cleaning by our dentists will extend the longevity of your teeth and keep your gums healthy. You are investing in your health and saving on future treatments. Further, being able to smile with confidence is important for your self-esteem.
Having a dental teeth clean is easy and relatively quick. You can speak with us about any concerns you have so they can be addressed in future appointments or, you can simply book in for another teeth clean based on our advice.
Your smile and dental health is of utmost importance and we will ensure you are comfortable with our recommendations. Reach out to our office today to book an appointment.