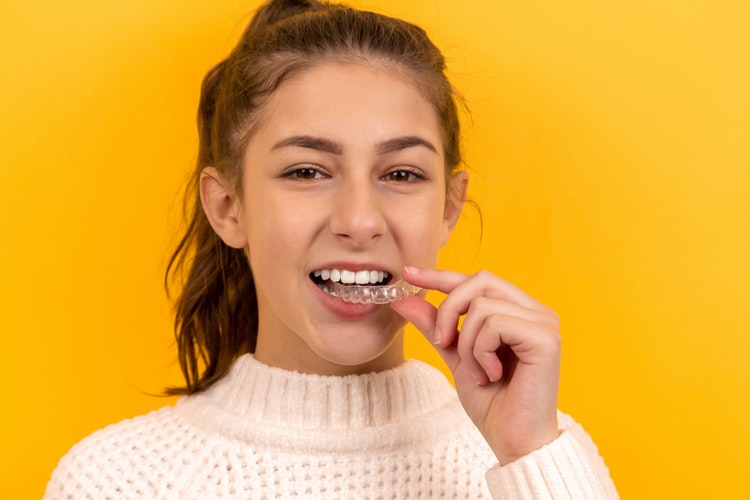 Considering braces but not sure of what type of braces are best for you? Looking to find out about invisible braces so you can decide if Invisalign is a good choice to straighten your teeth?
As you can appreciate, teeth vary for each person along with their dental health. In order to provide the right advice for your oral care, we recommend you book in with our qualified dentists here at Holistic Dental Melbourne CBD to find out if Invisalign is the right choice for you.
Is Invisalign Safe?
Invisalign is a Safe Choice and here's why.
Invisalign is considered to be one of the world's safest types of invisible braces and has been used by over 10.2 million people worldwide. Further, an Invisalign study conducted in 2017 found that those who used Invisalign as their choice of braces were satisfied with the treatment and it helped to improve their quality of life significantly.
Invisalign clear braces are manufactured by Align Technology. The clear braces are made from a patented thermoplastic material that is FDA (Food and Drug Administration) approved and contains no BPA (bisphenol A), gluten, latex or BPS (Bisphenol S). So, there are no nasty chemicals that could harm you during your teeth straightening treatment.
How does Invisalign work?
One of the main reasons why people want Invisalign is because they are clear and not as obvious as traditional types of braces used to straighten teeth.
To get started, a 3D scan is taken of your teeth to obtain an accurate picture of where your teeth are positioned.
Tooth movement and positioning treatment is then planned using software and extensive previous smile data. Our dentist will then show you a preview of your smile. That's pretty amazing right?
Because these are braces that sit over your teeth, they are swapped out regularly, usually every one to two weeks to keep your teeth shifting into the position needed for the smile you want using slightly different aligners every time. Our dentist will guide you depending on your unique oral situation.
Treatment time is lower with these aligners. You can see the results of your Invisalign treatment taking shape sometimes within weeks and the treatment time can be as fast as 6 months which is a much shorter time frame compared to traditional braces.
What are the Disadvantages of Invisalign?
Because this is a thermoplastic that sits over your teeth and covers them, it is harder for saliva to reach those teeth to provide the function of breaking down food particles. So, an oral care routine is important. However, you can remove Invisalign braces for a thorough clean without the hindrance of braces attached to your teeth as happens with traditional braces.
Can anyone use Invisalign?
These types of invisible braces are able to be used for simple to severe dental cases and as a retainer after straightening, making them an ideal treatment for many oral situations.
When it comes to age, young children can also undergo Invisalign treatment but it is preferable that they no longer have their baby teeth for this method of straightening.
Is the Invisalign Treatment Permanent?
As with all braces, there is a chance your teeth will move once treatment is complete.
Still have questions about getting Invisalign in Melbourne?
You are welcome to call us on (03) 9662 2288 and we will be glad to answer any questions you have about Invisalign. Alternatively, book in with our dentists for professional advice based on your oral health.
Holistic Dental Melbourne cbd are experienced at providing Invisalign treatment. Our principal dentist has over 20 years experience as a dentist and works with an experienced and dedicated team whose aim is to ensure you have the very best dental health treatment and advice. Book an Invisalign consultation today.